To Connie (an employee at
Crazy 8
),
The morning we met, you saved me.
There was no way you could have possibly known, from your place behind the cash register, how fearful I was to walk into your store. My smile masked the anxiety that's prevented me from even entering the mall in the past. But for some reason,
that
morning I mustered up whatever courage I had left, and I walked in.
You had no clue as you glanced down at my daughter in her pink stroller that this was an "inchstone" for us. Until this moment, shopping for her and for me was often anything but pleasant. For the longest time, because of her low muscle tone, my daughter was unable to sit upright, which meant she couldn't sit in a cart. I had to carry her when we shopped, and when she could finally hold herself up in a cart, the sounds, people and movements were too much for her to process. My heightened sense of anxiety didn't help the situation either.
Our shopping trips were often filled with tears and tantrums and stares and embarrassment, so I stopped shopping all together because I was afraid of the "what ifs."
What if she starts screaming?
What if people stare at us?
What if I cannot calm her down?
The fear-inducing "what ifs" ruled my existence. Till I met you.
When I walked into the store, you asked if you could help me — a common question you surely ask every patron. I said I was fine.
I wasn't.
Every inch of me was tense. I needed your help. You must have sensed it.
You walked over to me and started talking — not about the clothes in your store or the latest sale but about my kids. You were warm, sincere and kind, and I immediately felt calm and welcomed. I wasn't afraid you would judge me if my daughter had a meltdown. I felt like you would help, just like you'd offered to do when I entered your store.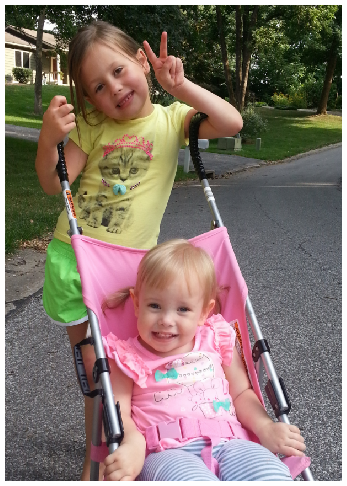 As I picked through clothing, I mentioned to you my daughter had special needs. You said your own son did as well.
Surrounded by clothing racks and the steady sound of shoppers' feet, we discussed therapies and doctors. We lamented over false and absent diagnoses and hospital stays. During a moment that was supposed to be stressful and fear-evoking I found comfort and reassurance and an unexpected sisterhood.
In that moment, you helped me reclaim my confidence and taught me that if I allow my fears to control me, I run the risk of missing out on some amazing experiences and people.
While I continued to shop, we talked, and I felt at ease. My daughter was surprisingly content too. There were no tears, no tantrums, no stares and no embarrassment.
For the first time in a long time, I walked out of the mall with a smile on my face, and I left my fear right next to the "two for 88 cents" rack.
Thank you, Connie.